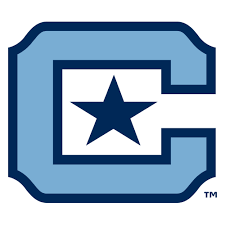 Charleston, S.C. – Twenty players from the 1992 Citadel football team which won the school's most recent Southern Conference championship will reunite Saturday at Johnson Hagood Stadium when the Bulldogs host Elon in their Homecoming contest.
The attendees include three of the team's four captains that season – quarterback Jack Douglas, cornerback Torrence Forney and free safety Lester Smith. The fourth captain – wide receiver Cornell Caldwell – is unable to attend.
Douglas, Forney and Smith will serve as honorary captains and participate in the coin toss. They will be joined by the 17 other players as well as former assistant coach Jeff Bleamer and athletic trainer James Day in a special halftime recognition.
Other players in attendance will be Judson Boehmer (DE), Detric Cummings (DB), Marty Fagan (TE), Greg Farley (LB), Michael Flintom (RB), Lance Hansen (OL), Ty Holland (LB), Dan Johnson (DB), Kendall McKnight (LB), David Morelli (OL), Greg Perry (TE), Scott Reagan (OL), Rob Reaves (DB), Terrance Rivers (RB), Everette Sands (FB), Jeff Trinh (K) and Mike Wideman (LB).
The 1992 Bulldogs finished with a record of 11-2 and were ranked No. 1 in the nation by The Sports Network at the conclusion of the regular season. The Citadel blanked North Carolina A&T in the opening round of the Division I-AA playoffs before losing to Youngstown State in the quarterfinals.
The only two teams the Bulldogs lost to that season – Marshall in the regular season and the Penguins in the postseason – eventually met in that year's national championship game, with the Thundering Herd claiming the title.
No other Citadel football team has won more than eight games, and the Bulldogs knocked off Division I-A members Arkansas and Army en route to their 10-1 regular season. The Citadel was strong on both sides of the ball, with the wishbone attack leading the nation in rushing and the defense posting three shutouts and topping the country in scoring defense.
A record seven players earned All-SoCon honors that season and four – Smith, Forney, Hansen and offensive lineman Carey Cash – were selected to various All-America first teams. In addition, Charlie Taaffe was named the Division I-AA National Coach of the Year by The Sports Network and the American Football Coaches Association.
The Class of 1992 won 30 games in their careers, the most of any class in Citadel football history. Additionally, Douglas and Smith had their numbers retired by the school and joined teammates Sands, Cash and Travis Jervey as well as Taaffe in The Citadel Athletic Hall of Fame.